port: View- and DataMode, FilterName, WhereCondition, OpenArgs. acViewReport shows you the data, acViewPreview the print preview. Learn how to open a report in design view, normal view or print view in VB. Read about DoCmd OpenReport syntax, option and example tutorial here! Contact. The odd thing is, that apparently there's no way to simply view the report without immediately printing it:). I tried the code port.
| | |
| --- | --- |
| Author: | Mezirg Akinojin |
| Country: | Kenya |
| Language: | English (Spanish) |
| Genre: | Finance |
| Published (Last): | 7 January 2004 |
| Pages: | 184 |
| PDF File Size: | 17.85 Mb |
| ePub File Size: | 9.94 Mb |
| ISBN: | 663-6-25424-515-9 |
| Downloads: | 43483 |
| Price: | Free* [*Free Regsitration Required] |
| Uploader: | Arashilabar |
FilterName Optional Variant A string expression that's the valid name of a query in the current database. You open the report using DoCmd. The obvious workarounds that come to mind are usually one of the following: You can also restrict the records that are printed in the report. OutputTo -Method does not support to supply any criteria to the report dicmd.openreport filter the data.
Message will auto close in 2 seconds.
OpenReport A report has many properties that determine its behaviour. IIRC, this lets you select the report you want to print, and will print the open instance of it can you SelectObject on a hidden object? It requires to create multiple very similar objects reports. Our new feedback system is built on GitHub Issues.
While all these approaches work, I would rather not recommend to use any of them. Matching the above order:. To prevent the report appearing on the screen in preview, you use the WindowMode acHiddento open the report invisible to the user. So, it seems to be a problem to export a report that displays different data sets depending on user input or other factors.
However, if the report you want to export is open already in preview acViewPreview when you invoke OutputTothe DoCmd.
There is only one thing that you must not forget to take care of. OutputTo -Method will just export the report as it is! A powerful way to change from the design-time default behaviour is using the DocDmd.
All of these do work.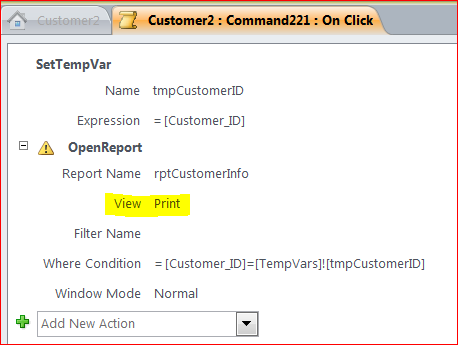 PrintOut instead of acCmdPrint. The default value is acViewNormal. When you design your report, that is the time you will decide on the defaults for your report. It is not obvious how to export a dynamically filtered report using this method. I will never share your email with anyone. An example of how to do that can be found here.
DoCmd.OpenReport method (Access)
The default valus is acWindowNormal. Build the SQL for the report at runtime and assign it to the report. Create different reports with domd.openreport criteria built in Create a parameter query referencing form fields or global functions as record source for the report.
There are no open issues. After opening the report in preview view, it will stay open, albeit invisible, until you explicitly close it.
These properties concern the way data are presented, possible filters, how it can be used to enter of edit data etcetera. You can use it both for getting a subset and for having it sorted.
A AcView constant that specifies the view in which the report will open. OpenReportthe report will become visible but it will not re-query the data and will it still use the original criteria for filtering the data. A string expression that's the valid name of a report in the current database.
It requires additional functions or a form and is rather inflexible. With acDialog your calling code should not continue docmd.opemreport the report is closed.
vba – MS Access – Opening a report without it printing – Stack Overflow
The data is covered by the EU-U. However you may want to use rougly the same report in different ways. You may also leave feedback directly on GitHub. Luckily there is a very simple solution to the problem that is just not so obvious.